Sure, you cleanse and moisturize, but proper skin care is more than a two step process. In fact, creating and maintaining gorgeous, radiant – or even just clear – skin necessitates a more holistic approach.
Change your lifestyle and you'll change your skin. Start with these 10 simple tips.
Substitute BB Cream for foundation
A new product we're obsessed with is BB Cream, which is a type of tinted moisturizer. In warmer months, try substituting BB Cream for heavy foundations and cover-up; your skin will feel lighter and the makeup is more flexible and less likely to crease or move around throughout the day.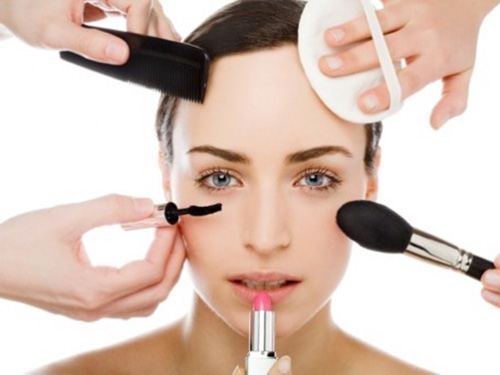 Start preventing aging now
If you're in your twenties or thirties, you should be already thinking about preventing wrinkles and aging. It's easier to prevent than to heal! Your great selection of makeup and beauty products should incorporate a wrinkle-serum into your nightly routine—sleeping is perfect for these serums because they have time to sink in and do their job!
Shower less frequently
This might be a new one for you, but try showering less frequently. Every time you shower, you dry out your skin with the heat and steam and it damages the outer layer of your skin. Slow down the damage by showering no more than once a day, or ideally once every two days.
Moisturize right away
That being said, the second you finish your shower you should be layering on the moisturizer head to toe! This can help replenish your body's natural moisture barrier and help stop your skin from drying out and flaking.
Use activated charcoal masks
A trend that's becoming increasingly popular is using activated charcoal face masks. Charcoal has properties that bonds it to toxins and oils. A charcoal mask is perfect because it can remove any toxins, excess oil, and bacteria from your pores, leaving your skin feeling clean and breathable! See these other helpful tips for using activated charcoal.
DIY beauty treatments
It's not always necessary to spend a fortune on expensive products, when a lot of what need can be found in your kitchen! You can make easy and quick exfoliating masks with oatmeal, brown sugar, and avocados, or deep-conditioning hair treatments with olive oil, eggs, and milk.
Protect your skin from the sun
It's easy to forget about sun-damage, especially if you commute to work or take a coffee break outside. Even twenty minutes here and there in the sun can make a difference to your skin health; try using SPF moisturizers and body creams and you'll be easily protected!
Drink infused water
The benefits of lemon and lime-infused water can be endless; not only can they help rev up your metabolism, but they can help give you clearer and brighter skin. Chop up a few slices and throw them in your water bottle or leave them in a water-infuser overnight and reap the benefits!
Eat right for your skin
Diets rich in omega fatty acids can help you achieve a healthy, glowing look. Start incorporating salmon, tuna and mackerel into your week and you'll be surprised at how quickly you see results—quicker than any creams or serums because you digest the benefits right away!
     10. Don't over exfoliate
Exfoliating the skin is a key part of your beauty routine; it helps remove any dead skin cells and removes toxins from your pores, leaving you with bright, smooth skin. However, it is easily possible to over-exfoliate, meaning exfoliating too frequently or with harsh product, which can leave your skin feeling stressed and dried out. Ensure you exfoliate only once or twice a week and use gentle exfoliating scrubs.